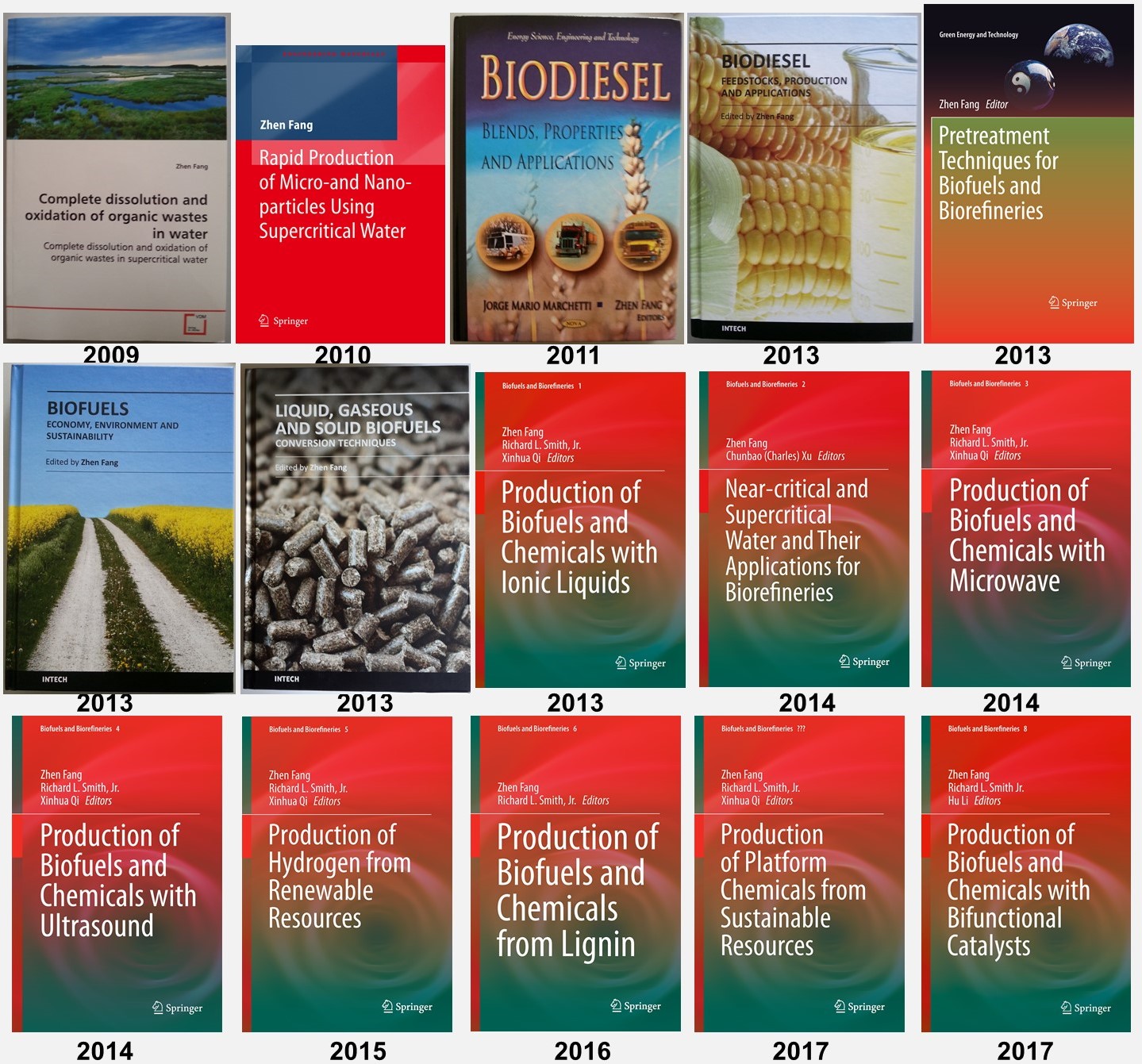 "Production of Biofuels and Chemicals with Bifunctional Catalysts" (Hardcover ISBN978-981-10-5136-4) edited by Profs. Zhen Fang and Richard L. Smith Jr., and Dr. Hu Li is published by Springer:
http://www.springer.com/cn/book/9789811051364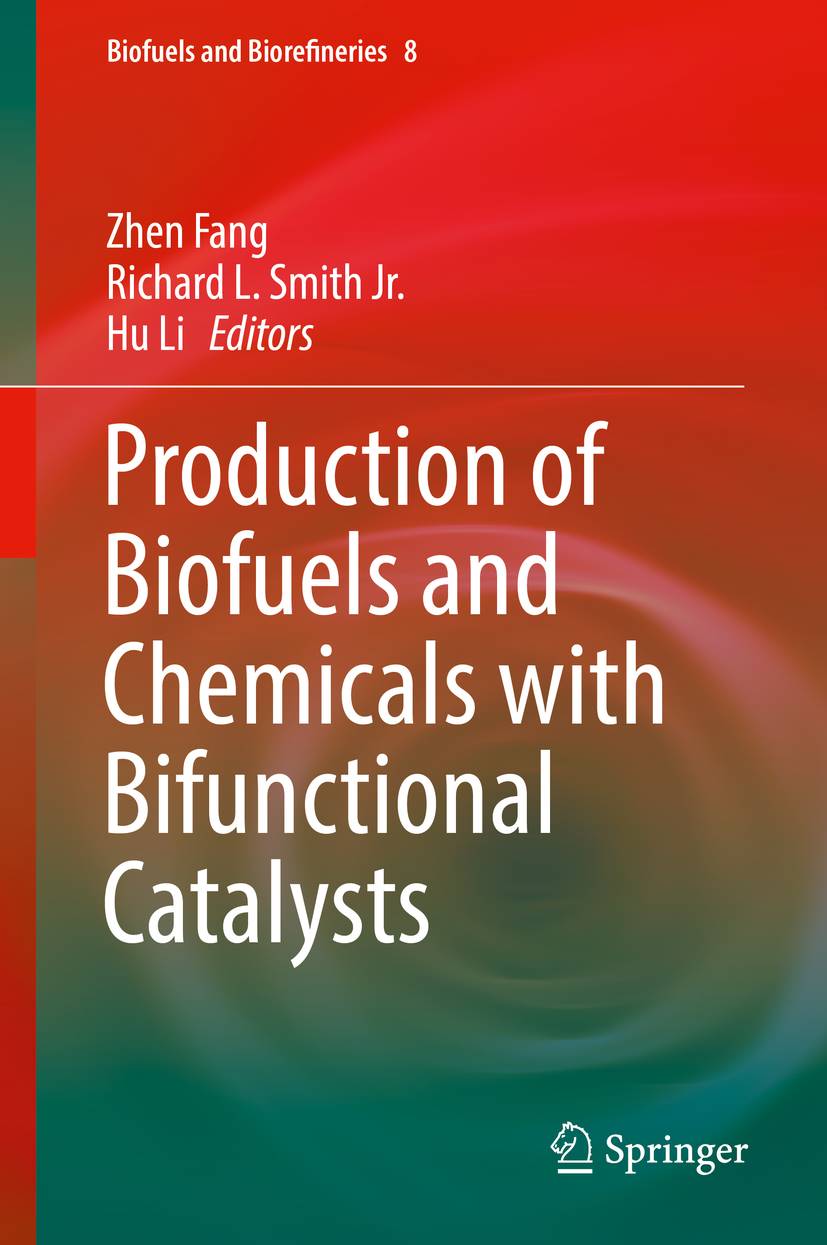 Catalytic processes in multiple steps are typically required in the selective conversion of biomass derivatives into value-added chemicals and biofuels. Much effort has been made in the past decades toward the integration of different types of catalytic transformations with a bifunctional catalyst to improve reaction efficiency, enhance product selectivity, and promote specific reaction pathways. This book provides state-of-the-art reviews, current research, prospects, and challenges of production of platform chemicals (e.g., hexose, 5-hydroxymethylfurfural, 2,5-furandicarboxylic acid, furfural, and levulinic acid) and liquid biofuels (e.g.,biodiesel, 2,5-dimethylfuran, 2-methylfuran, and γ-valerolactone) from sustainable biomass resources with cooperative catalytic processes that include heterogeneous bifunctional chemocatalysis (acid-base, Bronsted-Lewis acid, and metal-acid) and combined bio-/chemo-catalytic routes. Fundamentals of bifunctional catalysis and catalysts, characterization reaction mechanism/pathways, methods for heterogeneous catalysts, the impact of catalyst design on the reactivity, and catalytic process integration are introduced. The application of biomass-derived compounds for the synthesis of commodity chemicals and liquid transportation fuels via various catalytic routes is also covered.
This book is the eighth book of the series entitled "Biofuels and Biorefineries," and it contains 12 chapters contributed by leading experts in the field.
The text should be of interest to students, researchers, academicians, and industrialists who are working in the areas of catalysis, catalyst design, renewable energy, environmental and chemical sciences, engineering, resource development, biomass processing, sustainability, materials, biofuels, and chemical industries.
——————————————–
斯普林格新书《双功能催化剂生产生物燃料和化学品》出版
    由方真老师,日本东北大学Richard L. Smith Jr.教授和李虎博士主编的新书《Production of Biofuels and Chemicals with Bifunctional Catalysts》,最近由斯普林格公司出版发行。(精装,390页, Hardcover ISBN 978-981-10-5136-4, 2017)(http://www.springer.com/cn/book/9789811051364)。
    本书(12章)提供了生产生物燃料和化学品的最新评论、研究现状、前景和挑战。如生产呋喃生物燃料、生物柴油、羧酸、多元醇和从木质纤维素生物质生产别的生物燃料等、糠醛、合成气和用双功能催化剂合成戊内酯。包括用催化,并结合生物和化学催化过程。
    催化材料的双功能特性不仅仅是使用多功能固体材料作为活化剂的概念,而且在这样一种方式下设计材料,催化材料具有协同作用的特点,促进一连串的转换,性能大大优于简单混合单功能催化剂的转化。本书是为催化、能源、化工和生物质转化领域的研究人员、学者和实业家设计的参考书。读者会发现章节中包含实用和重要的丰富信息,用化学催化和生物技术评估各种生物燃料和化学品的生产和应用。
   该书是斯普林格系列丛书"生物燃料和生物炼制- Biofuels and Biorefineries"(方真老师担任该丛书总编辑)出版的第八本专著,也是方真老师自2009年以来,编著出版的第十五部英语专著。