星期四, 8月 27th, 2020
Recently, Prof. Zhen Fang was appointed as Associate Editor of Journal of Renewable Materials (JRM) as announced by Dr. Yingtao Jiang, President of Tech Science Press. JRM is an interdisciplinary journal publishing original research covering all aspects of bio-based materials, sustainable materials, and green chemistry. The scope of the journal is devoted to reports of new and original experimental and theoretical research in the areas of materials, engineering, physics, bioscience, and chemistry, which are related to the critical renewable and recyclable applications. JRM is indexed and abstracted in SCI, Scopus and Ingenta (Q3 in materials sciences, composites).
As an Associate Editor, his major responsibilities include:
1) Submit one original paper or invite one high-quality paper per year,
2) organize regular peer review for manuscripts submitted to JRM per year;
3) organize a special issue composed of five or more papers dealing with a hot topic within the scope of JRM per 2 years.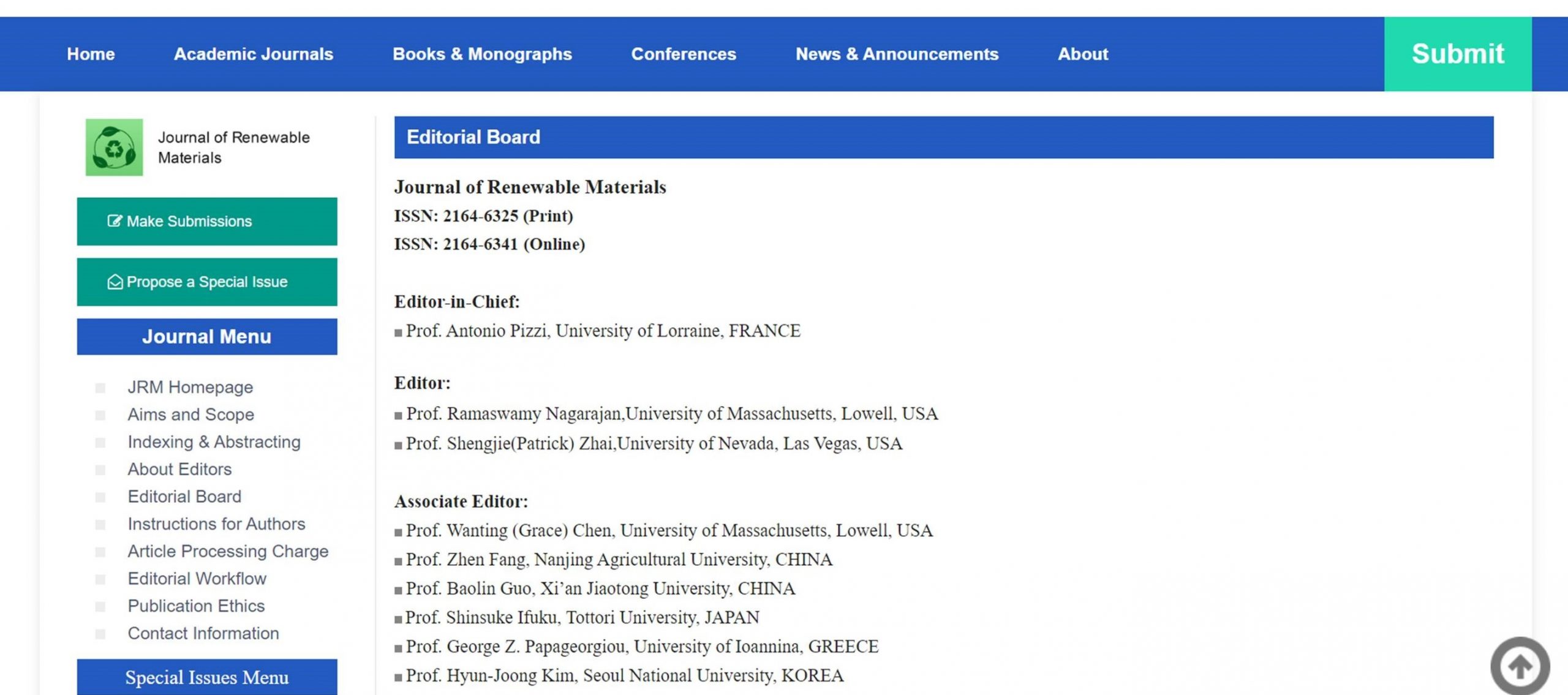 In addition, Prof. Z FANG is/was also serving:
EDITOR-IN-CHIEF (总编辑):
Current Chinese Science, Section Energy, Bentham Science Publishers Ltd, United Arab Emirates (11/2019-now)
  ASSOCIATE EDITORS (副编辑):
Biotechnology for Biofuels (http://www.biotechnologyforbiofuels.com/about/edboard) (IF  4.8, Q1) (2012-now)
The Journal of Supercritical Fluids (IF 3.7, Q2) (02/2018-now)
  EDITORIAL (ADVISORY) BOARD MEMBERS (编委):
Biotechnology for Biofuels (IF 4.8, Q1) (2011-2012)
Biofuels, Bioproducts and Biorefining (Biofpr) (IF 4.5, Q1) (2012-2018)
The Journal of Supercritical Fluids (IF 3.7, Q2) (07/2017-02/2018)
Energy, Sustainability and Society (IF 2.0, Q3)  (2011-now)
Combinatorial Chemistry & High Throughput Screening (IF 1.2, Q3) (05/2018-now) (https://benthamscience.com/journal/index.php?journalID=cchts)
Energy and Policy Research  (Taylor & Francis) (2016-2018) (http://www.tandfonline.com/toc/uetp21/current)
方老师任《再生材料杂志》副主编
近日,经技术和科学出版社社长Yingtao Jiang博士宣布,方老师被任命为《可再生材料杂志》(JRM)的副主编。JRM是一个跨学科的期刊,出版原创研究,涵盖生物基材料、可持续材料和绿色化学的各个方面。该杂志的范围致力于报道材料、工程、物理、生物科学和化学领域的新的和原创的实验和理论研究,这些领域与关键的可再生和可回收应用有关。JRM在SCI、Scopus和Ingenta(材料科学,复合材料JCR Q3区)中被索引和摘要。
作为副主编,他的主要职责包括:
1) 每年提交一篇原创论文或邀请一篇高质量论文,
2) 每年定期对提交给JRM的稿件进行同行评审;
3) 每两年组织一期专题,由五篇以上的论文组成,涉及JRM范围内的一个热点话题。