星期六, 11月 17th, 2018
Springer book "Production of Materials from Sustainable Biomass Resources" 
Recently, Springer has published (in press) a book entitled "Production of Materials from Sustainable Biomass Resources" edited by Profs. Zhen Fang, RL Smith Jr. and Dr. XF Tian, Springer, Hardcover ISBN978-981-13-3767-3, 500 pages, 2019 (https://www.springer.com/cn/book/9789811337673) .
Lignocellulosic biomass consists of the biopolymers (cellulose, hemicellulose and lignin) that form a natural structural matrix with structural similarities but uniqueness among its many forms. As one of the most abundant renewable resources, lignocellulosic biomass can be transformed into materials, chemicals and energy with sustainable chemistry and engineering. The substitution of traditional fossil resources by the three major biopolymers as sustainable feedstocks has been extensively investigated for the manufacture of high value-added products including biofuels, commodity chemicals, bio-based functional materials, and heterogeneous catalysts that could be directly applied for promoting the manufacturing processes. Aimed at developing innovative materials and fuels for practical application, this book was conceived for the collection of studies on state-of-art techniques developed specifically for lignocellulose component derivation, and producing functional materials, composite polymers, carbonaceous biocatalysts, and pellets from lignocellulosic biomass with emphasis on sustainable chemistry and engineering. Technological strategies in terms of physical processing or biological conversion of biomass for material production are also included. Each individual chapter was contributed by globally-selected experts or professionals in the field and externally reviewed to provide a broad perspective of applications on the frontier.
This book contains 12 chapters contributed by leading experts in the field. The text is arranged into five key areas:
Part I: Isolation and purification of lignocellulose components (Chapter 1)
Part II: Composite polymers derived from lignin and cellulose (Chapters 2 and 3)
Part III: Functional materials derived from cellulose and lignocelluloses (Chapters 4-8)
Part IV: Biomass pellets as fuels (Chapters 9-11)
Part V: Biosynthesis of polymers from renewable biomass (Chapter 12)
The text should be of interest to professionals in academia and industry who are working in the fields of natural renewable materials, biorefinery of lignocellulose, biofuels and environmental engineering. It can also be used as comprehensive references for university students with backgrounds of chemical engineering, material science and environmental engineering.
This book is the ninth book of the series entitled, "Biofuels and Biorefineries", (Prof. Zhen Fang is serving as Editor-in-Chief), and the sixteenth English book edited/authored by Prof. Zhen Fang since 2009.
Biofuels and Biorefineries:
http://www.springer.com/series/11687?detailsPage=titles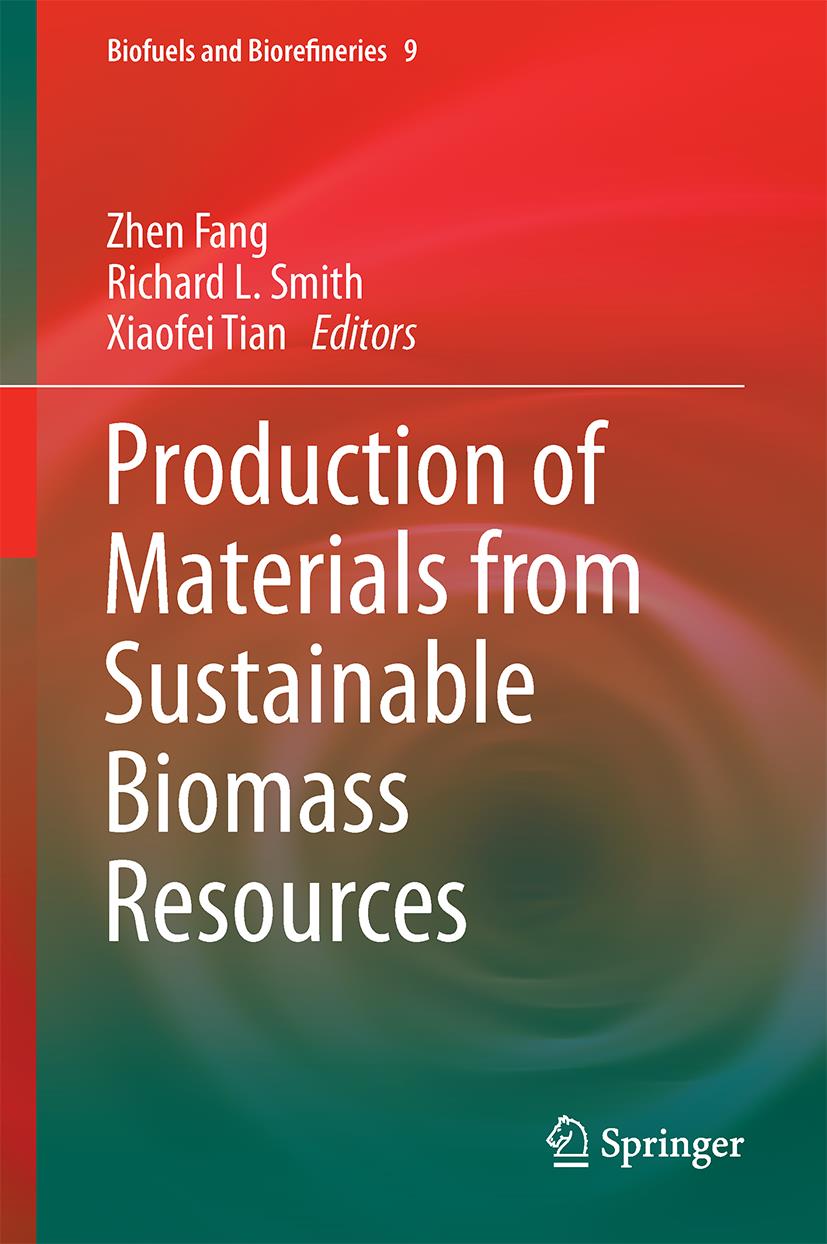 斯普林格新书《可持续生物资源生产材料》出版
由方真老师、日本东北大学RL Smith Jr.教授和华南理工大学田霄飞副教授主编的新书《可持续生物资源生产材料》,最近由斯普林格公司出版发行。(精装,500页, ISBN978-981-13-3767-3,2019)(https://www.springer.com/cn/book/9789811337673 )
木质纤维素生物质由生物聚合物组成(三大组分:纤维素、半纤维素和木质素),其组成的天然结构具有一定的相似性但又有其独特性。作为最丰富的可再生资源之一,木质纤维素可通过可持续化学工程转化为材料,化学品和能源。利用这三大主要生物聚合物为原料制备高附加值产品代替传统的化石资源已被广泛研究,包括生产生物燃料、商业化学品、生物基功能材料和能够直接应用促进生成过程的非均相催化剂。为了给实际应用开发新材料和燃料提供指导,本书旨在收集木质纤维素组分衍生物技术发展水平,及木质纤维素利用可持续化学工程生产功能性材料、复合聚合物、碳基生物催化剂和燃料颗粒。本书还包括物理加工生物质原料和生物质原料生物转化的技术策略。本书包含12个章节,每个章节由全球范围内挑选的该领域的专家或教授编写并通过严格的外审,为读者提供前沿应用的广泛视角。
本书分为五个主要部分:
第一部分:木质纤维素成分的分离和纯化(第1章)
第二部分:木质素和纤维素衍生的复合聚合物(第2章和第3章)
第三部分:纤维素和木质纤维素衍生的功能材料(第4-8章)
第四部分:生物质颗粒燃料(第9-11章)
第五部分:生物合成聚合物(第12章)
本书在材料、可再生能源、环境与化学科学、工程、资源开发、生物质加工、生物燃料和化学工业等领域提供了全面的信息。它为从事天然可再生材料、木质纤维素生物精炼、生物燃料和环境工程领域的学术界及工业界的专业人士提供了宝贵的学术资源。它还可以作为具有化学工程、材料科学和环境工程背景的大学生的综合参考文献。
该书是斯普林格系列丛书"生物燃料和生物炼制- Biofuels and Biorefineries"(方真老师担任该丛书总编辑,该丛书章节总下载量已超11万次)出版的第九本专著,也是方真老师自2009年以来,编著出版的第十六部英语专著
生物燃料和生物炼制丛书: