Production of Liquefied Oil Palm Empty Fruit Bunch Based Polyols via Microwave Heating
Recently, Mr. UA Amran (a PhD student from Universiti Kebangsaan Malaysia, Malaysia) supervised by Profs. S Zakaria and Zhen Fang produced polyols from oil palm wastes using microwave.
Optimization of microwave-assisted liquefaction of oil palm empty fruit bunch fiber (EFB) and cellulose (EFBC) in ethylene glycol (EG) was carried out to produce polyols. The liquefaction residues and hydroxyl numbers of the resultant polyols from respective sources were studied and compared. EFB produced a minimum residue of 3.22% at the optimal parameters of 160 °C and 15 min. Meanwhile, optimum liquefaction of EFBC produced 1.03% residue at 175 °C and 40 min. The maximum hydroxyl numbers of both EFB (749.22 mg KOH/g) and EFBC (639.91 mg KOH/g) polyols were obtained at optimum conditions. FTIR analysis revealed the degradation mechanism of cellulose and lignin in EFB at different temperatures. Lignin was found to be liquefied easily at lower temperatures (130 and 145 °C). However, most of the cellulose began to be liquefied at the optimum temperature (160 °C) and severely degraded at higher temperatures (175 and 190 °C).
Related results were published:
1. UA Amran, S Zakaria*, CH Chia, Zhen Fang*, MZ Masli, Production of Liquefied Oil Palm Empty Fruit Bunch (EFB) Based Polyols via Microwave Heating, Energy & Fuels, 31(10), 10975–10982 (2017).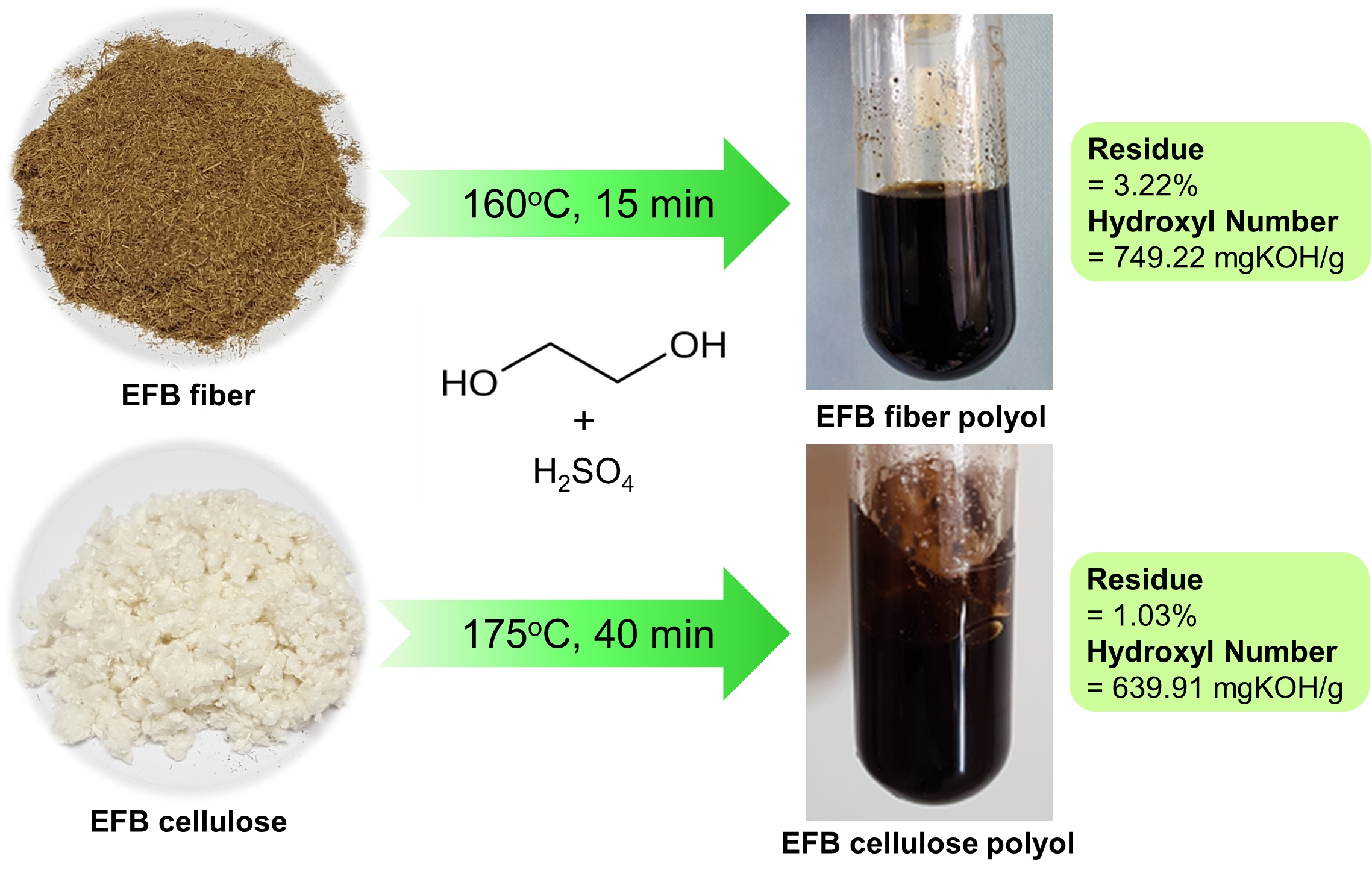 通过微波加热,液化棕榈油果的空壳生产多元醇
生物能源组与Universiti Kebangsaan Malaysia联合培养的博士生UA Amran先生在导师S Zakaria和方真教授指导下,利用微波反应系统液化棕榈油果的空壳生产多元醇。相关研究结果以"Production of Liquefied Oil Palm Empty Fruit Bunch (EFB) Based Polyols via Microwave Heating",为题发表在国际专业期刊Energy & Fuels, 31(10), 10975–10982 (2017)。